We recognise that the naval weapons put into service in the 1970's 1980's and 1990's are becoming increasingly difficult to operate and maintain and yet they will continue to play a significant role in navies throughout the world for many years to come.
We specialise in the provision of services associated with the sale and support of legacy naval weapon systems in the small and medium calibre (20mm – 40mm) range.
It is recognised that International OEM's typically focus the bulk of their resources and energies in the development and sale of new products and capability. Changing priorities, obsolescence, rationalisation and factory closures all add to the difficulties that many navies experience in keeping their legacy systems in an operational condition.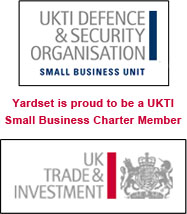 The complimentary skills, experience and domain understanding brought together by YARDSET and its partners, offers its clients a responsive, credible and cost effective alternative to traditional naval weapons support.
Providing a responsive, credible and cost effective support capability for your legacy small and medium calibre naval weapons